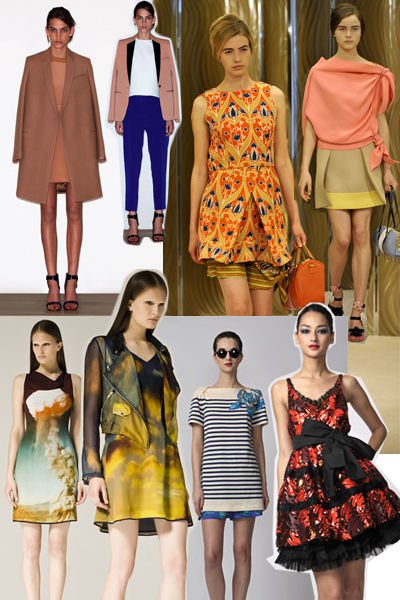 1. phoebe philo = nope. not liking this at all. the color pallete was much too bland for my tastes. i'm not expecting lime green or canary yellow, but it is resort and is intended for...well...summer? tan and beige are not resort. now, their aren't any guide lines for the colors...she could use tan and beige if the designs were executed in a different way. but this collection felt stiff and unattractive. it did have its pieces, ones with color, most specifically the cobalt pants which i could see selling well and looking well. really the only piece i'd even consider eyeing. for the most part it was really dull, sorry phoebe!
2. prada = miuccia nailed it. god this women does fantastic prints. she definitely borrowed heavily from the prada archives and the colors were awesome. not only was the collection adorable, wearable, and welcoming it also screamed resort when you looked at it. resort is meant to be safe, sellable, so i'm not expecting anything mindblowingly beautiful from any designer but i really enjoyed this collection and i hope i see hints of it in her spring 2010...
3. christopher kane = sorry tavi, i liked the atomic bomb dresses. was this collection good? no, i actually thought it was kind of a miss on mr. kane's part. though i must defend the bomb dresses! i think the print itself it beautiful. using a more complicated silhouette would end up messing up the simplicity of the print, and the image of the mushroom cloud itself is powerful enough that it changes the flat, average cut into something interesting. i don't think christopher was trying to make a statement with these dresses, he just liked the image. as for other parts of the collection (UGH THOSE JEANS) they really made me cringe. but the mushroom cloud dresses were beautiful, and i would most certainly wear the print!
4. marc jacobs = this resort collection sucked. really, it did. i am all for ugly grandma florals but marc didn't even attempt to use the floral in a youthful, ironic way. even a little. actually he managed to create ugly outfits using ugly florals. there were a few cute dresses that would suit any 16 year old going to a highschool dance, but then there were some dresses that looked like they were torn from a 1984 Sears catalogue. marc, sometimes 80's fashion can be cute...but this resort was just ugly. and boring. a few cute striped t-shirts here and there, but the tweed jackets with neon fringe?! WHAT THE HELL WAS THAT?
so that's my resort so far. it's pretty much not that interesting.