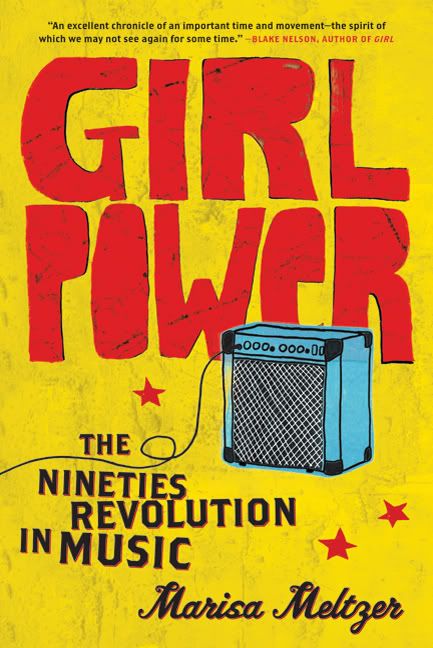 I posted
on my tumblr
at the beginning of the week that
Marisa Meltzer
sent me her book
Girl Power: The Nineties Revolution In Music
. As a girl who has been digging music made my ladies far more than tunes made by men, this book is like a dream come true. Meltzer leaves nobody untouched, going over the entire female music scene of the 90's and touching on the most important genres and movements like Riot Grrrl, Kindercore, and even the glittery era of Girl Pop groups like the Spice Girls.
Now, was I really around to enjoy all of this awesome female 90's music? No, because I was born in 1994 I hardly got to experience any of the music scenes or sounds mentioned in the book when I was alive in the 90's but I strongly assure you, almost all of the ladies in this book are women I worship today. This book is a collection of what it means to be a female musician in a decade that changed the way people completely viewed women in music, politically, sexually, artistically. I never, ever saw The Spice Girls or Cyndi Lauper as singers who created music that would empower women, but Girl Power picks apart every woman's music to find it's feminist core.
This isn't a book about a specific genre of music. It is really a book about women and the music they created in the 90's. Every single girl who appreciates music by female musicians can like this book, and that's what makes me love it so much. It doesn't matter if you're a Bratmobile groupie, dig L7, listen to Fiona Apple, or even adore Britney Spears you're going to find that together, all of those girls that created the music in this decade sent such vibrations through the industry and the minds of young girls who love music.