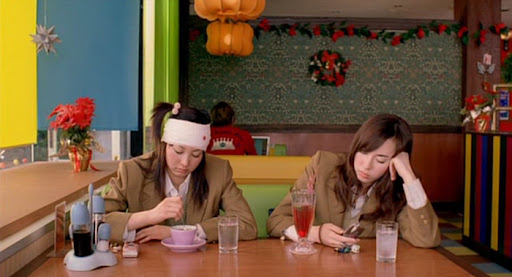 Survive Style +5 is a Japanese movie that consists of 5 sets of characters whose stories eventually intertwine.
1 = A man tries to kill his wife but she keeps coming back.
2 = A terrible copywriter keeps creating ridiculous commercials.
3 = A father whose hypnotized and his family can't cure him.
4 = An angry British hitman and his dorky Japanese translator.
5 = Three ridiculous young males who just sort of stir up trouble.
This movie is probably one of the most attractive movies I've ever seen (I mean, I'm a maximalist who loves funky patterns/colors, so if you aren't into cluttered visuals than you might not appreciate it.) It was a goofy sort of movie, but I just can't get over how attractive all the sets/costumes were! These pictures don't do it justice.